yehaa.. ak dapat lecturer yang leh layan 1 kpala... syok giler... susah tol nk dpt lecturer mcm nih... open n smart... haha... kali nih... mmg ak kn study btol2... sbbnya... lecturer ak pn bagus... baru arr diorg happy nk ngajar... ak pn happy nk blaja... kan.. haha... wlau mcmn pn... dari sem 1 tahun 1 smp sem 2 tahun 2... ak ttp jadi class rep... knpla diorg asyik pilih ak jer... ad ramai lagi yg best... yang lagi rajin... nih melekat kat ak jer.. apola...
k.. tukar tajuk plak.. semalam.. ak tgk movie... spiderwick chronicles... best... ak bg 4/5... jalan cerita yang senang difahami... mmg cun... mmg fantasi arrr... x ley nk ckp ap lagi... haha... kawan ak ad bg byk citer... tp x tau nk tgk ap nnt... nnt arr pikir... skrg baik rilex2... nk ready tok kuar dating malam nnt.. haha... makan kat d'nangka... 1st time g ctuh.. xtau arr sedap ker x... sapa2 yg kat melaka... nnt kt jmp kt ctuh plak... haha...
ok... pagi td lak... kitorang ad presentation bg mata pelajaran pemikiran kritis dan kreatif... lebih kurang la bunyinyer tuh... best... lecturer nyer laki... open seyh... hahaha... dlm kelas asyik gelak2 jer.. haha... ad menyanyi plak tuh... semua grup kn nyanyi... kn tunjuk logo grup... dan juga moto grup... mmg best arr... nk menjana pemikiran yang kreatif katanya... haha... siap ad gaya lagi ms nyanyi... hehe...
ak xda ap lagi nk share... tuh jela kot... cuma tuh arrr.. selamba plak ad prob td.. nak masuk x ley... xper.. sat g ak try masuk balik... jmp lagi.. .c ya.
korang nk citer tuh?? tgk kt bawah nih..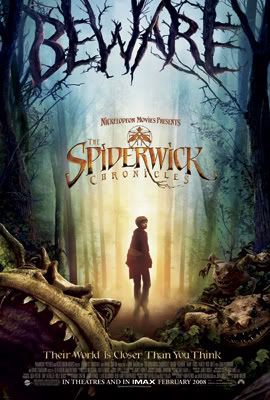 From the beloved best-selling series of books comes "The Spiderwick Chronicles," a fantasy adventure for the child in all of us. Peculiar things start to happen the moment the Grace family (Jared, his twin brother Simon, sister Mallory and their mom) leave New York and move into the secluded old house owned by their great, great uncle Arthur Spiderwick. Unable to explain the strange disappearances.
Starring: Freddie Highmore, Mary-Louise Parker, Nick Nolte, Joan Plowright
Directed by: Mark Waters
Genres: Drama, Kids/Family, Science Fiction/Fantasy and Adaptation
Running Time: 1 hr. 37 min.
Release Date: February 14th, 2008 (wide)
MPAA Rating: PG for scary creature action and violence, peril and some thematic elements.
Distributors: Paramount Pictures, Nickelodeon Movies
http://www.megaupload.com/?d=RTXW1S3P
http://www.megaupload.com/?d=C0LX70K5
http://www.megaupload.com/?d=1OL5NDYU
http://www.megaupload.com/?d=DPUHRBJC
http://www.megaupload.com/?d=95J0KSSP
http://www.megaupload.com/?d=I9LZ6SRR
http://www.megaupload.com/?d=O5IZVDM0
http://www.megaupload.com/?d=HDAE2RT3
or
http://www.filefactory.com/file/a33a89/
http://www.filefactory.com/file/4b1cb7/
http://www.filefactory.com/file/cc912d/
http://www.filefactory.com/file/10d9ef/
http://www.filefactory.com/file/bf0867/
http://www.filefactory.com/file/01f879/
http://www.filefactory.com/file/e76984/
rs link:
http://rapidshare.com/files/181651161/TSC_2008_DVDRip.part1.rar
http://rapidshare.com/files/181651201/TSC_2008_DVDRip.part2.rar
http://rapidshare.com/files/181651381/TSC_2008_DVDRip.part3.rar
http://rapidshare.com/files/181651563/TSC_2008_DVDRip.part4.rar
http://rapidshare.com/files/181651630/TSC_2008_DVDRip.part5.rar
http://rapidshare.com/files/181651784/TSC_2008_DVDRip.part6.rar
http://rapidshare.com/files/181651991/TSC_2008_DVDRip.part7.rar
http://rapidshare.com/files/181651793/TSC_2008_DVDRip.part8.rar
p/s:Credit to Selamba.net